除菌高溫滅菌袋
Decontamination Bags
| | | |
| --- | --- | --- |
| 訂購編號 | 除菌高溫滅菌袋 | 包 裝 |
| 322024 | 12 x 24 inches (30.5 x 61.0cm) | 200個/盒 |
| 322030 | 24 x 30 inches (61.0 x 76.2cm) | 200個/盒 |
| 322036 | 24 x 36 inches (61.0 x 91.4cm) | 200個/盒 |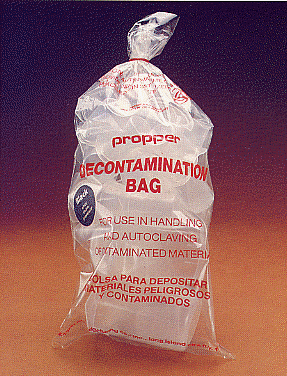 透明的除菌高溫滅菌袋(Decontamination Bags)是設計用來從實驗室,手術室,中央供應中心或醫院的任何地方收集,運送醫療器材、手術器材或廢氣物,及去除醫療器材、手術器材中的感染物質之用。 透明的除菌高溫滅菌袋是由超強的,2-mil 厚的保麗丙烯(polypropylene)製造出來的袋子。 能夠承受高溫菌鍋286℉或141℃的高溫。 並且每個袋子都附有捆綁帶方便使用。 在袋子上有熔接縫邊及加強袋腳,並附有袋口鈕緊繩,當在使用這些袋子時可提供最高的耐用度及避免滲漏的風險。
穗滿企業股份有限公司
台北市忠孝東路4段162號5樓之3
服務電話:(02)2731-7727
傳 真:(02)2731-8221
Decontamination bags yield a high degree of safety in management
of biological contaminants. They are easily recognized by
hospital personnel and are cost-effective. They carry clear
instructions in English and Spanish and display the required
biohazard symbol.
In steam the indicator changes from tan to black when the bag
has been through the autoclave.
Welded seams and reinforced comers provide extremely high
durability and lowest risk of leakage while the bag is in service.
Twist ties are supplied.

Decontamination Bags
Transparent decontamination bags
are designed for the collection,
transportation, and decontamination of medical or surgical
equipment or waste from OR, CSR,
or any other area of the hospital.

Decontamination bags are made of super-strength. 2-mil thick
polypropylene. They are capable of withstanding
autoclave temperatures as high as 286℉(141℃).

Decontamination Bags
Quantity Size
Reorder No. per case inches cm
322024 200 12x24 30.5x61.0
322030 200 24x30 61.0x76.2
322036 200 24x36 61.0x91.4